得獎資訊

2010-10-19
The ANZCham Small Business Excellence Award 2010【獲頒台北市澳洲紐西蘭商會商業傑出貢獻獎】
Our 6th Annual Business Awards were presented at a gala dinner held at the Far Eastern Plaza Hotel in Taipei on Friday 8
October. The Awards are designed to recognise those Australian, New Zealand and Taiwanese companies that have made a significant contribution to bilateral business relationships with Taiwan.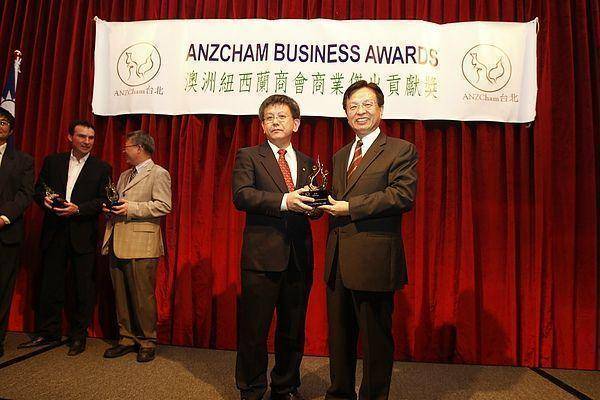 Approximately 180 guests enjoyed a dinner that featured the best of Downunder fare and a wonderful performance by the Australian Guitarist Camaron Ford and his band The Camaron De La Vega Trio
We greatly appreciate the generous support of ANZ Banking Group Limited, Macquarie Capital Securities Limited, First Commercial Bank Co., Ltd., Zespri International (Asia) Limited, Newton Educational Service & Tour as sponsors of our business awards this year.
From a wide range of nominations we compiled a very high quality short list of 15 finalists.
They were:
CSR Building Materials Co., Ltd., Rio Tinto, FoodFashion Co., Ltd., Clinico Inc., Uhan-Shii International Cultural Co-operation Company, HamiltonJet, Buckley Systems, F&P Healthcare, Enhanced Forestry Co Ltd, St Finesse,
Adelaide Pacific Co., Ltd.,
KGB Kiwi Gourmet Burgers, Brass Monkey, Dr. Tsun-Sheng Huang and Mr. Max Murphy
The Deputy Minister of Economic Affairs Mr Lin Sheng-Chung presented the winners with their respective 2010 ANZCham Awards. Award categories and the winners are listed;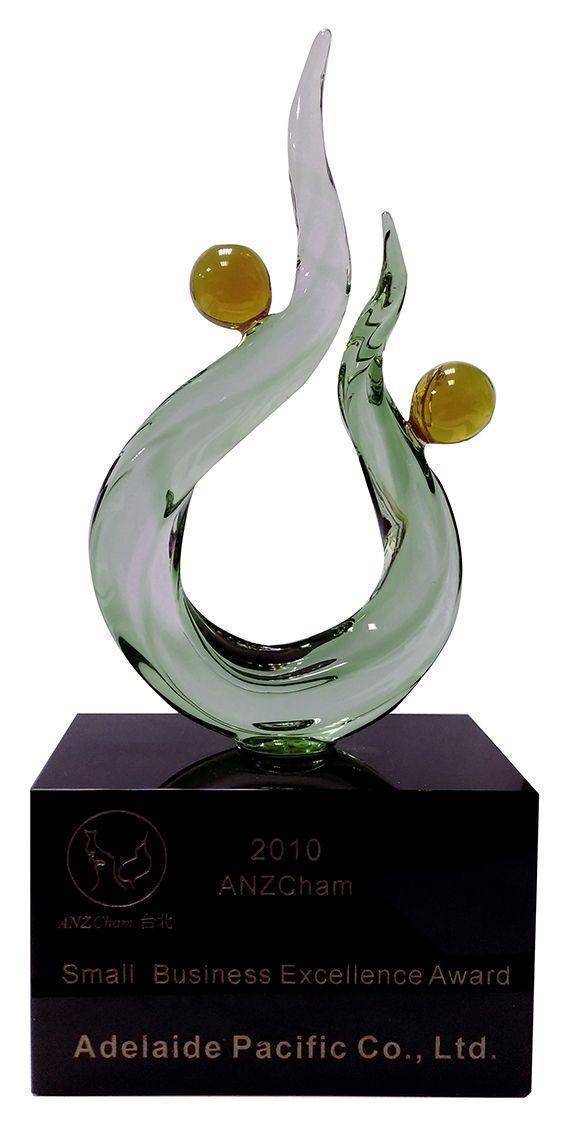 Rio Tinto - the ANZCham Australia Taiwan Business Excellence Award
Rio Tinto is a leading international mining group. Rio Tinto's business is exploring for, mining, and processing mineral resources. Major products include aluminium, copper, diamonds, gold, coal and uranium, industrial minerals and iron ore. Rio Tinto has major operations in Australia and North America and significant businesses in South America, Asia, Europe and Africa.
Taiwan is an important and growing market for four of Rio Tinto's key products: aluminium, iron ore, energy products and minerals. Rio's teams in Taiwan coordinate marketing and freight activities. In the past year Rio Tinto has shipped some 900,000 tonnes of coal and 80,000 tonnes of aluminium to Taiwan from its Australian operations.
This award recognizes Rio Tinto's success in building strong business partnerships with Taiwanese customers and supports Rio Tinto as it continues to build on its reputation as a reliable supplier of high quality products. "We are honoured to accept the Australia Taiwan Business Excellence Award," said Edwin Lee, Rio Tinto Alcan's sales and marketing manager. "Rio Tinto places a strong emphasis on our growing Asian markets and looks forward to continuing and growing these successful business partnerships in Taiwan."
FoodFashion Co. Ltd. - the ANZCham Taiwan Australia Business Excellence Award
FoodFashion Co. Ltd., founded in 1987, is a leading company in the food service, bakery, and retail sectors, specialising in importing and processing natural cheese. Over the past 23 years, FoodFashion has been a key supplier of various natural cheese products, enriching the food culture of Taiwan, and also offering high quality manufacturing and logistic services to its clients.
In a competitive market, FoodFashion has introduced premium natural cheeses, high quality olive oil, pasta and related natural ingredients and products. FoodFashion maintains the highest levels of quality control, provides a customized cheese cutting and packing system, and organises professional cheese seminars for clients. In 2009, FoodFashion opened its "Multi-Function Cooking and Baking Studio" to assist customers with up-to-date product information, technical, and management skills.
HamiltonJet - the ANZCham New Zealand Taiwan Business Excellence Award
HamiltonJet is the global market leader in water jet propulsion systems. Sir William Hamilton pioneered water jet technology in the South Island of New Zealand, developing the first practical water jet propelled boat in 1954. Through constant innovation the company remains at the leading edge of technology in high speed vessel propulsion and control. The company is still headquartered in Christchurch, New Zealand, where all its products are manufactured. HamiltonJet has regional offices in the Americas, Europe and Asia, and distributors in over 50 locations worldwide.
HamiltonJet has a long and proud history in Taiwan and has an excellent relationship with its local distributor Port King which has been a HamiltonJet partner for 19 years. HamiltonJet and Port King have recently won a contract to supply Taiwan's Coast Guard with water jets and control systems for a fleet of new 100 tonne class Patrol Boats. This order represents many years hard work by both HamiltonJet and Port King and is also globally significant as these vessels are the first in the world to utilize a new model of water jet designed by HamiltonJet. The first pair of these HamiltonJet HT810 units have been installed in a vessel at Ching Fu Shipyard with direct assistance from HamiltonJet engineers and the vessel is currently undergoing sea trials. Initial indications are that the twin HT810 units are performing better than expected and are capable of propelling these 34m (112ft) boats to speeds in excess of 30 knots. The fleet of vessels will be under construction for some years and the supply of HamiltonJet units will continue over that time.
Enhanced Forestry Co. Ltd. - the ANZCham Taiwan New Zealand Business Excellence Award
Enhanced Forestry Co. Ltd (EFCO) was established in Taiwan in 1989 and is a pioneer in introducing New Zealand radiata pine to the market. For over 20 years, EFCO has worked hard to build strong relationships with New Zealand forestry companies. In 2000, EFCO expanded to other regional centres, to promote New Zealand (and Australian) radiata pine products to Taiwan manufacturers who had moved operations to China and Vietnam. EFCO set up sales offices in Shanghai, Xiamen, Shenzhen and Ho Chi Minh City. EFCO's products include logs, sawn timber, MDF and LVL.
EFCO works with customers and suppliers to find products that suit both parties. Due to EFCO's efforts radiata pine is now widely used in Taiwan, China and Vietnam for making plywood, furniture, picture frames, doors, sofas, outdoor umbrellas, handicrafts and shoe components. Radiata pine is also used in the construction and packaging market.
Today, EFCO is the largest supplier of radiata pine in China, Taiwan and Vietnam. All EFCO products are sourced from well managed forestry plantations. EFCO believes that through working closely with its New Zealand partners it can increase growth opportunities for radiata pine in regional markets.
Adelaide Pacific Co. Ltd. - the ANZCham Small Business Excellence Award
Adelaide Pacific (APC)'s prime objective is to provide premium Australian and New Zealand wine to Taiwan's private collectors and fine wine restaurants. In the last three years APC's business has grown rapidly and it has established three bottle shops in Taipei.
APC's philosophy is to work closely with the wineries and wine makers it represents and with its customers. APC believes in helping customers to learn to enjoy New Zealand and Australian wines and regularly hosts exclusive dinners to educate buyers about New Zealand and Australian wines. Business has continued to grow even during the Global Financial Crisis.
The ANZCham Individual Achievement Awards (two winners):
Dr. Tsun-Sheng Huang
Dr. Tsun-Sheng Huang, Vice Superintendent of Chang Gung Memorial Hospital (CGMH), has led the development of Australian Biomedical Technology - Cochlear Implantation - in Taiwan.
Dr. Huang is one of the most well-known and respected Ear, Nose and Throat (ENT) specialists in Taiwan. He has completed around 500 successful Cochlear implantations in Taiwan helping hearing-impaired children and others recover their hearing ability. Dr Huang has also delivered a series of lectures and demonstrations of Cochlear implantation to ENT surgeons in China, helping Cochlear Ltd to penetrate the mainland market.
The late Chairman of Formosa Plastics Group, Y. C. Wang, was so impressed by the success of Cochlear implants in hearing-impaired children, that he decided to donate more than A$300 million in Cochlear implant devices for deaf children in both Taiwan and China. Dr. Huang assisted in this philanthropic endeavour.
Mr. Max Murphy
Max Murphy, founder of the Brass Monkey sports bar in Taipei, was born in New Zealand and educated in Australia, and moved to Shanghai in 1997 to work in a publishing business and hone his Chinese language skills. In 2000 Max moved to Taipei to set up a company selling automated optical testing machines for printed circuit boards.
In October 2002, Max was touring Bali with his rugby team the Taipei Baboons. On October 12th he was with the team at the Sari Club in Kuta when two terrorist bombs killed 202 people, including five members of the Taipei Baboons.
In the weeks following the bombings, Max helped co-found the "ANZBA Bali Trust Fund" (now "Rotary Baboons Bali Trust Fund") a fund set up with ANZBA (now ANZCham) to help survivors of the bombings with medical support and counselling and to aid the families of victims. The fund continues as a memorial to the victims of that tragic day. Operating under the supervision of the Rotary Club of Taipei, it supports sports related activities in Taiwan to benefit the local and international community. Recently it has supported skin graft operations for Morne Viljoen, a Bali survivor; helped Jack Liu who was seriously injured in a sporting accident and benefitted Harmony Home, the AIDS/HIV orphanage.
The bombings were the catalyst for change in Max's career. He wanted to be more people-oriented in his work. So he quit the electronics industry and started the Brass Monkey - a sports and party bar in Taipei. Opened in February 2003, the Brass Monkey has become a Taipei landmark for both foreigners and Taiwanese and made a lasting impact on Taipei's nightlife. It is a tribute to the friends lost that day in Bali.
Max no longer works full time at the Brass Monkey, but stays involved in the business. He also works as a consultant to Carlsberg-Cottingham, Taiwan's largest drinks importer. Max is still an active member of the Taipei Baboons Rugby Club.
Judging from participation and our gala dinner attendance our business awards are set for further growth and a solid future. We are very grateful for the support of the ACIO, and NZCIO and proud of our constructive efforts in developing tri-nation ties.
Coming up in November we will start off the month with the Bethany, Bespoke Cellar & ANZCham Joint Wine Tasting on Wednesday 3rd at the at ABU's Brasserie. Our Sundowners Networking Drinks will be on Friday 12th at the Brass Monkey.